Most mowers in this price range are stamped from flimsy steel sheets and bolted together.
Our MZ Series mowers are built side-by-side and up to the same tough manufacturing standards as our commercial mowers. So if you're looking to step up to the efficiencies of zero-turn mowing, you won't have to  step down in build quality, power or performance.
It's our "too much fun to call it work" ride, and your "get back to having time" machine.
Dual ZT-2200 EZT Integrated Drive Systems
Heavy-Gauge, All-Steel, All-Welded Frame
9.5mm Steel Front Forks
7-Gauge/4.5mm All Steel, Formed and Welded Deck with Reinforced Edges
PEER, Maintenance-Free Spindles
Deck Lift Pedal with Deck Dial Adjustment
Seat Lifts for Easy Maintenance and Cleaning
Electric PTO
Comfort Seat
FEATURES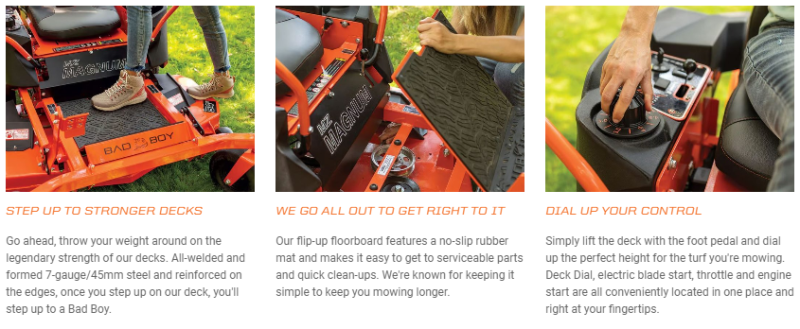 SPECIFICATIONS
ENGINE
Briggs and Straten CXi25 724cc 25hp (48″ deck)
Kohler KT740 725cc 25 hp (54″ deck)
TRANSMISSION
Dual Hydro Gear ZT2200 EZT Integrated Unit
DIMENSIONS
48″ / 1220mm (48″ deck) – 54″ / 1372mm (54″ deck) Cutting Width
Weight 299kg (48″ deck) – 312kg (54″ deck)
Overall Height / Length 1220mm / 1930mm (48″ deck) – 1220mm / 1930mm (54″ deck)
FEATURES
7 gauge / 4.5mm deck thickness
38mm to 114mm cutting height
Lift & height adjustment: Foot – assist manual lift with dial height adjustment
18×9.5-8 turf / 11×6-5 rear tyres / front tyres
Up to 9.65km/h mower speed