Picking the perfect balance of power, performance and comfort doesn't mean you have to give up your edge.
Form the commercial-grade dual hydraulic pumps and drive motors to our patented EZ-Ride 3-link trailing suspension, the Outlaw Rogue doesn't give up an inch to out other mowers.
Available in sizes from 61″to 72″ with a Kawasaki EFI engine, you can't go wrong with the Rogue zero turn lawn mower for professional-grade performance and cut. It raises the bar for every other commercial or large-acreage mower in this price range for dependable long-lasting performance and comfort.
There has never been a better time to go Rogue.
NEW – Updated Tank Styling
Dual 16cc Hydro-Gear Pumps
Dual 18ci Parker Wheel Motors
Patented 3-Link Rear Trailing Arm Suspension
Patented Independent Front Suspension
Heavy-Duty Cast I-Beam Rails
3-Gauge/6mm Deck with Reinforced 9.5mm Sides
Heavy-Gauge, All-Steel, All-Welded Frame
Patented Dual Deck Support Isolators
Deck Lift Pedal with Deck Dial Adjustment
Premium Adjustable Suspension Seat
PEER, Maintenance-Free Spindles
Exclusive Reaper® Rear Tyres
Adjustable Footrest
Rear Deck Striping Kit
No-Flat Front Tyres
FEATURES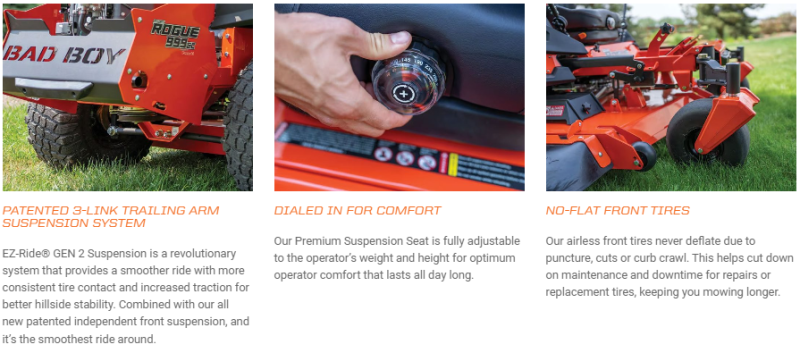 SPECIFICATIONS
ENGINE
Kawasaki FX1000 999cc EFI 38.5 hp (61″ deck)
Kawasaki FX1000 999cc EFI 38.5 hp (72″ deck)
TRANSMISSION
Hydro-Gear® 16cc Pump; Parker® 18ci Wheel Motors
SUSPENSION
Patented 3-Link Rear Trailing Arm Suspension with Patented Front Independent Suspension
DIMENSIONS
1529mm (61″), 1828mm (72″) cutting width
1346mm / 2336mm overall height / overall length
Width / 1917mm (61″), width / 2197mm (72″)
FEATURES
3 gauge / 6mm deck thickness
50mm to 152mm cutting height
Foot – assist manual lift with dial height adjustment
26×12-12 reaper rear tyres / 15×6-6 smooth front tyres
Up to 20.92km/h motor speed